Sonos PBAR1UK1BLK PLAYBAR Wireless Home Theatre Soundbar
Actual Stock Can Be Confirmed After Placing the Order.
Sonos PLAYBAR- The home theatre soundbar and streaming music speaker in one.
The Soundbar for Music Lovers
PLAYBAR delivers cinematic sound for all your movies, TV shows, sports, and games—and wirelessly streams your favourite music too.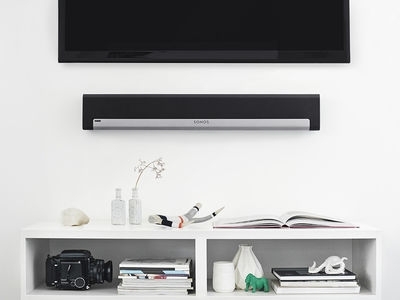 Set Up Over WIFI
Plug in. Connect. Stream without interruptions or interference.
Start In Any Room. Add On
Play different songs in different rooms. Or the same song everywhere.
Control With One App
Pick a room. Pick a song. Hit play.
Keeps Getting Better
Software updates mean the product you buy today will be even better tomorrow.
Better sound, guaranteed
Choose any Sonos speaker to try at home for 100 days. Change your mind before the 100 days are up and get a full refund, no strings attached.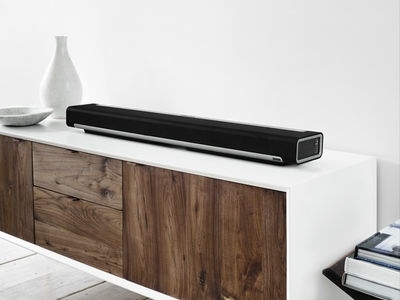 Not just louder. Clearer
Thin is great for TV screens, but not so great for sound. PLAYBAR to the rescue. With nine amplified speaker drivers—six mid-range and three tweeters—PLAYBAR replaces your TV's built-in speakers with deep, rumbling lows, crystal-clear dialog, and immersive waves of sound.
What you see is what you hear
PLAYBAR features nine speakers designed in a phased speaker array to deliver "directionality", creating a wider sound stage. That means if there's a huge crash on the left side of the screen, you'll hear it there because the speakers on the left are playing the sound and the speakers on the right are playing the inverse of that sound.
One app. Complete music control
The Sonos app helps you quickly search through all your services to track down favourite music, send it to different rooms, and adjust the volume and other settings. You don't even have to be in the same room. And if your friends have the Sonos app, they can do the same.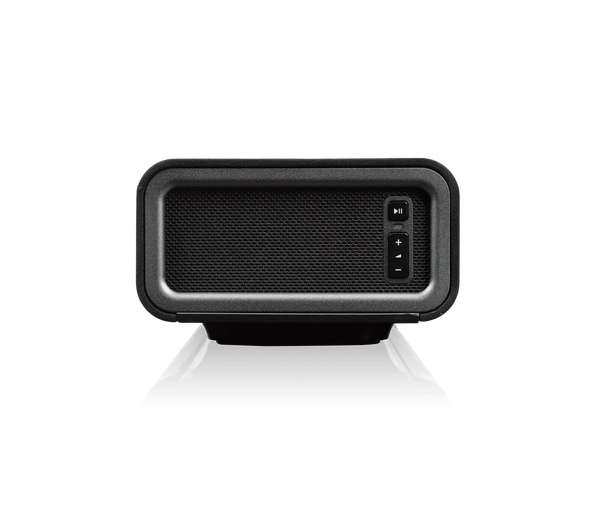 Over 30 streaming services available
Sonos plays everything – the most popular streaming services, on-demand services, internet radio, your favourite podcasts and audiobooks, your go-to collection of downloads­ – whatever you love to listen to.
Trueplay, custom speaker-tuning for your PLAYBAR
The size, shape, and setup of your room–as well as the location of your TV–all have a big effect on the sound you hear. Trueplay software—right on the Sonos app—measures your room and fine-tunes the sound to fit the space. To make sure whatever you're watching sounds as spectacular as possible.
Dialog enhancement
Having a hard time hearing what's being said? PLAYBAR uses custom drivers to deliver crisp, clear dialogue to the centre channel where your ears can best discern it. Need even more clarity? Turn on Speech Enhancement to keep the dialogue at a consistent level and reduce the volume of any loud sound effects.
Night mode
Watching late at night and don't want to disturb the rest of the house? Turn on Night Sound. At lower volumes, quiet sounds are enhanced and the intensity of loud sounds is reduced.
Two cords. That's it
One power cord. And one optical cord that connects to your TV. You don't even have to read a manual because the Sonos app guides you through every step of the setup process. Including connecting PLAYBAR to your WiFi so you can stream your favourite music.
Plays everything
Cable boxes. Gaming consoles. Satellite boxes. Blu-ray players. If it's connected to your TV, PLAYBAR will play it.
Expand beyond the TV room
PLAYBAR makes movies, sports, TV, games, and music come alive…but just in one room. Add more Sonos speakers to your home and you can listen to what's playing on your TV in any room.
One less remote to worry about
PLAYBAR works with almost all TV, cable box, and universal remotes by learning their infrared (IR) commands during setup. The remotes you have are all you need.
Play music from Spotify straight to Sonos
Enjoy all the personalised Spotify playlists and other listening features you love and more, streaming in perfect sound on your Sonos speakers, without needing to open your Sonos app.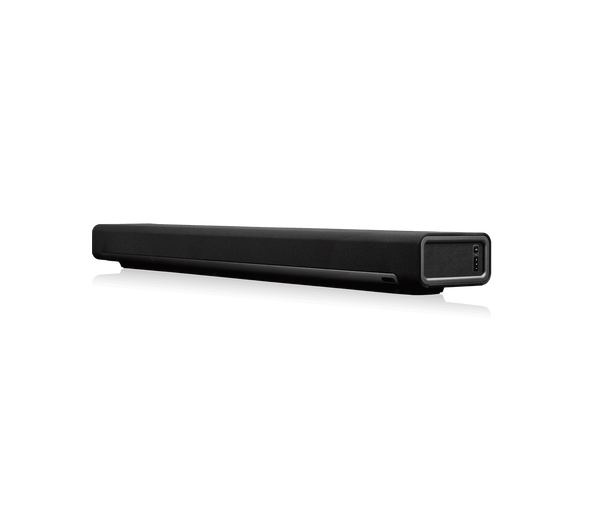 More Information

| | |
| --- | --- |
| System | Easily create a 3.1 home theatre system |
| Output Power | - |
| Frequency | - |
| Woofer Size | - |
| Weight | 5.40 |
| Manufacturer | Sonos |
| Color | Black |
Compare Products
You have no items to compare.