Telephone / IP-PBX Systems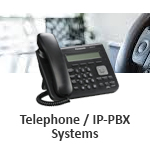 As business gets larger and larger, your need for connectivity within and outside the firm increases. No matter to what extent the boom of internet spreads, but there will always be a need of digital telephones around us, whether it's our home or it's for our workplaces. If you need phone system installation, servicing, programming, voice & data cabling, and voicemail installation & programming, then call us today! We offer best IP-PBX Systems on competitive rates and with best customer service in the whole UAE.
Call Our Experts @ +971-4-3360300 and we will ensure your technical and pricing requirements are taken care of. Alternately you can also Leave a Message & We will call you back in a jiffy.