DMInteract 3x3 4K Video Wall Controller With 9 I/O 1080P 60Hz (9x9) 4x2 2x4 2x3 3x2 2x2 HDMI Matrix Switcher Processor HD Splicer Splitter
Actual Stock Can Be Confirmed After Placing the Order.
All Delivery times are estimated based on the official restrictions.
Pay 4 interest-free payments of

AED 421.00

.
Learn more
DMInteract DM-3X3-409R: An advanced ultra-high-definition rotary splicer.




5 Inputs and 9 Outputs: Supports 4 HDMI inputs (1x 4K@60Hz, 3x 4K@30Hz) and 1 DP input (4K@60Hz).

Versatile Splicing Modes: Horizontal, vertical, and Zigzag modes for creative display configurations.

Cascading and Loop-Out: Allows large-scale cascading and parallel use with up to 4 windows in full-screen mode.

High-Resolution Support: Input supports up to 3840x2160@60Hz (backward compatible), output at 1920x1080@60Hz.

Industry Applications: Ideal for ultra-HD video surveillance, large screen walls, advertising displays, and exhibitions.

User-Friendly Control: Infrared remote control and RS232 support for easy operation.

Energy-Efficient Design: Low power consumption and internal conduction heat dissipation for high reliability.

Fast FPGA Processing: Full hardware real-time processing architecture ensures ultra-fast speeds without delays.

Wide Device Compatibility: Compatible with computers, Android boxes, game consoles, and more for versatile input sources.
PRODUCT OVERVIEW
This 4K HDMI 3x3 video wall controller supports one HDMI input to multiple splicing mode with 9 HDMI outputs for HD video display unit such as rear projection unit, TV LCD etc. Plug and play. Easy to install and support remote control.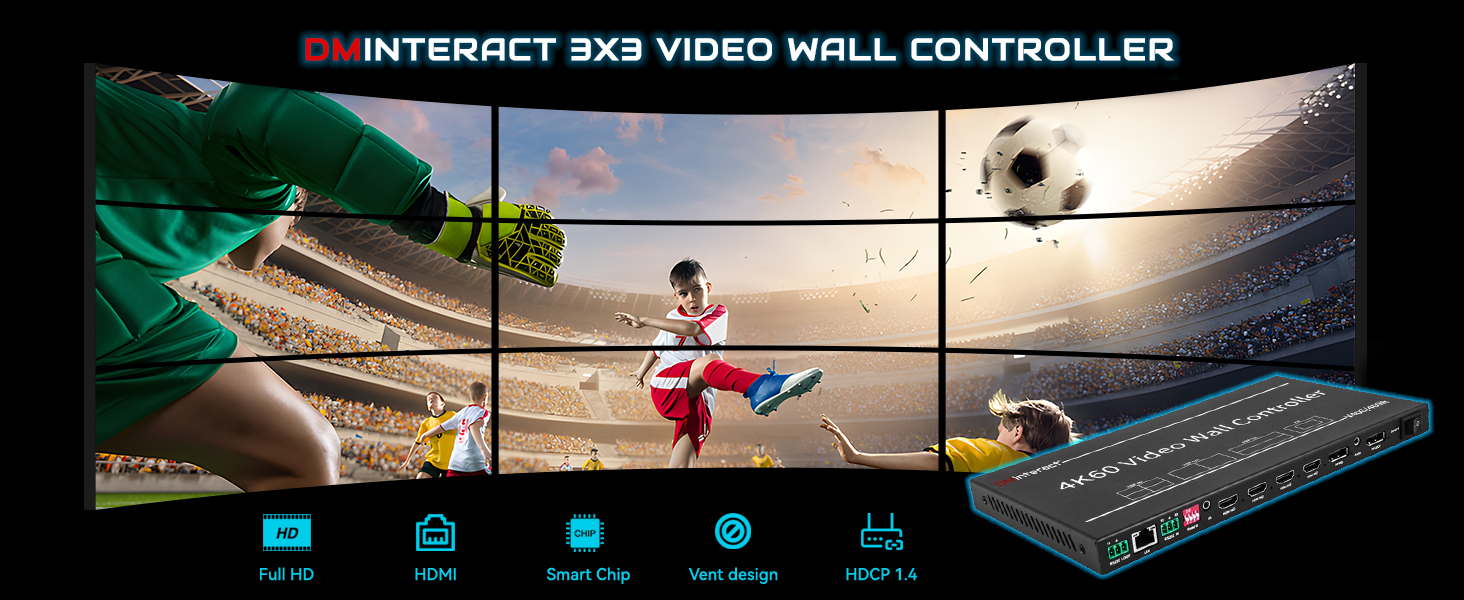 Features
Distributes one HDMI input device (computer, laptop, DVD player, console etc.) on 9 screens simultaneously. - 13 Display Modes - 4x4, 4x1, 3x3, 3x2, 3x1, 2x4, 2x3, 2x2, 2x1, 1x1, 1x2, 1x3, 1x4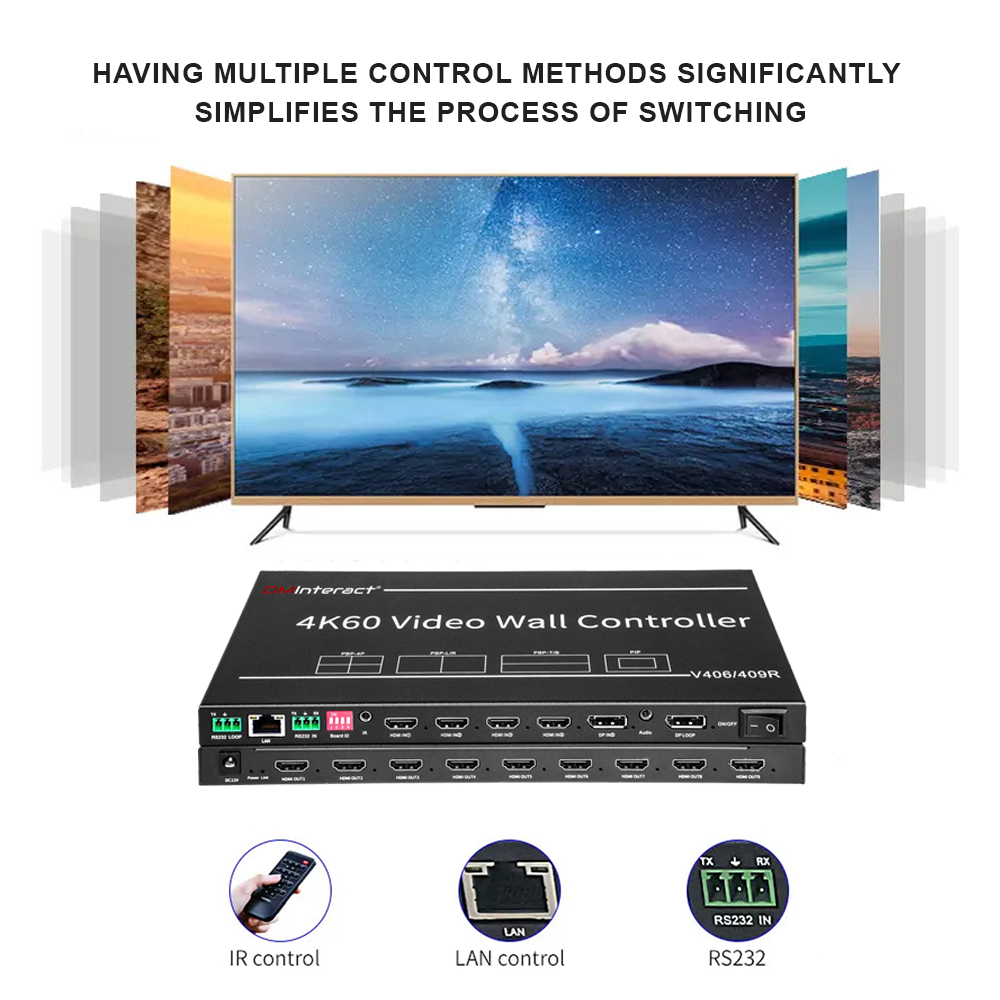 Support 90 degree display. It DOES NOT Support change to 90 degree with remote. It needs to set the 90 degree of your photos in the PC system, it will show the 90 degree photos.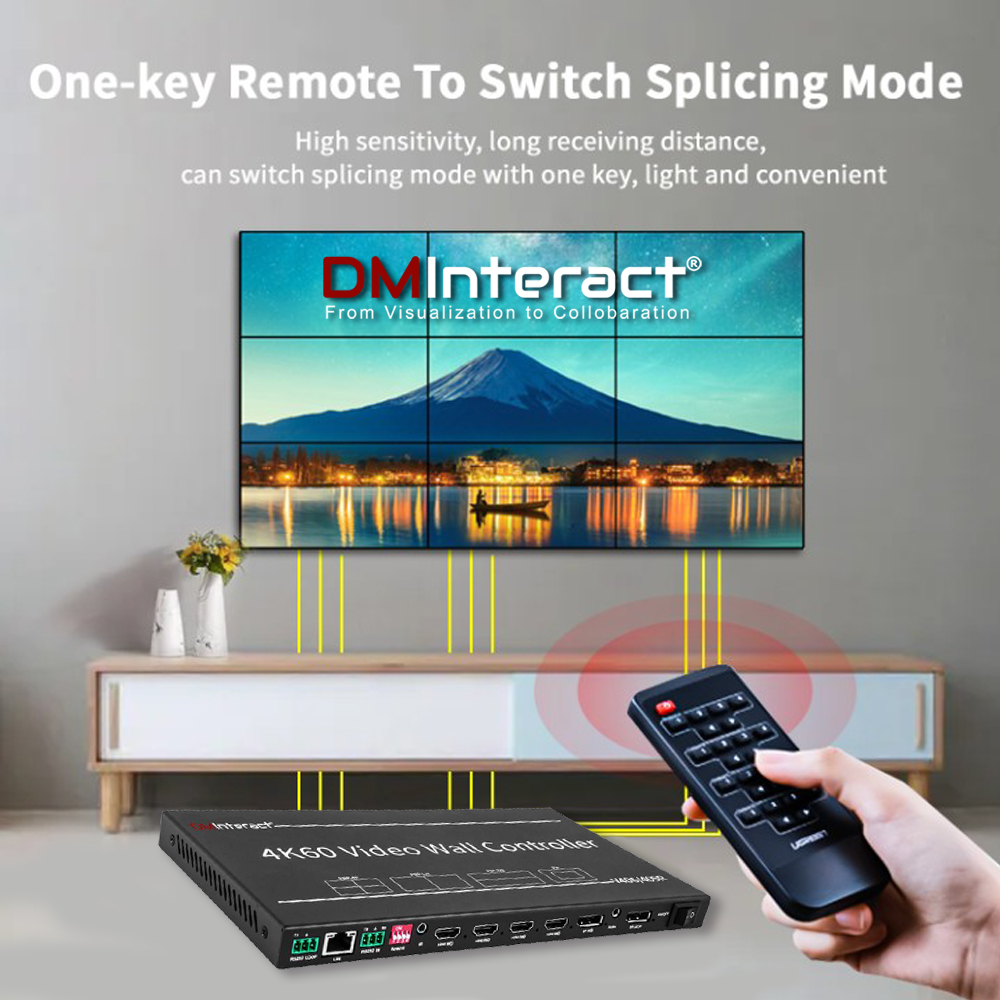 Support buttons and remote control.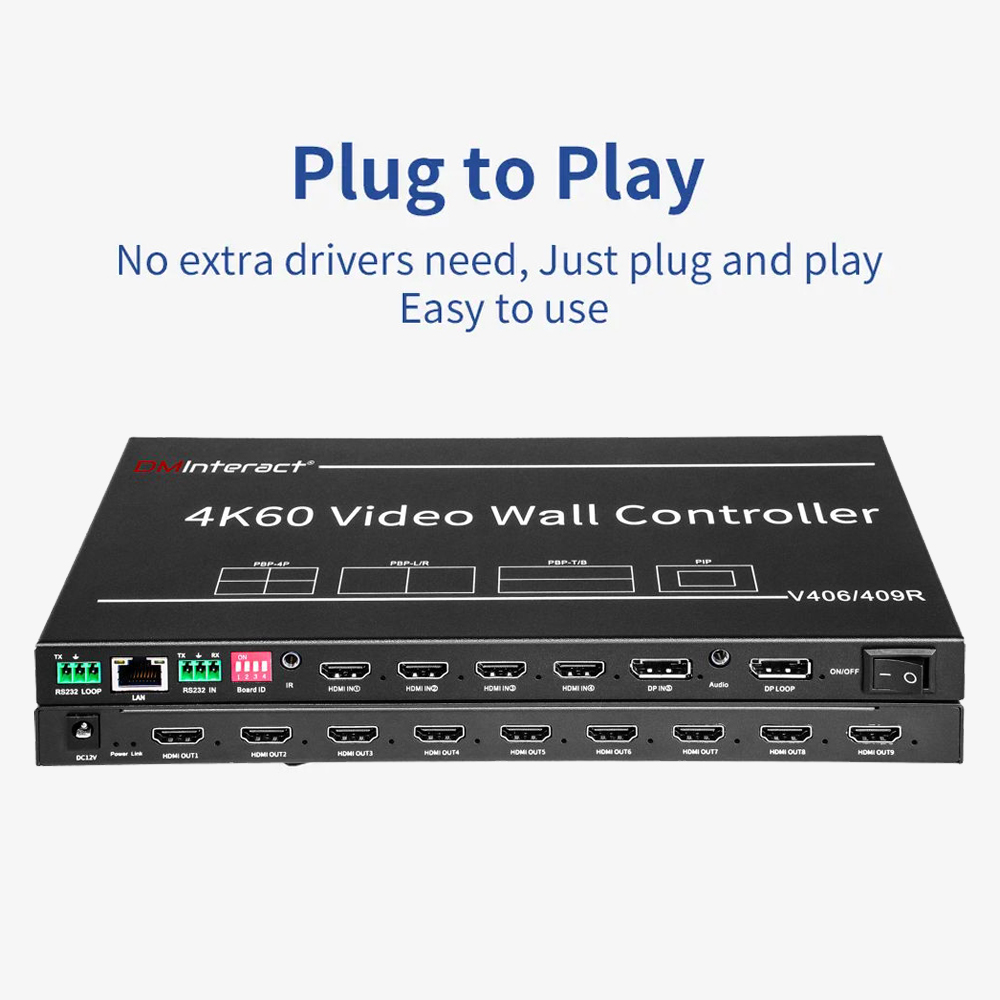 Plug and play. No Driver Installation. NOTE: HDMI cables are NOT included.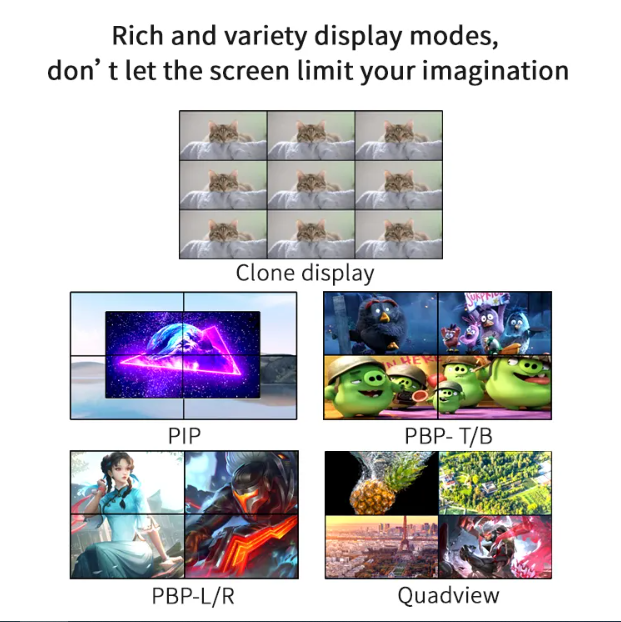 How to Operate
Connect HDMI source to HDMI input with HDMI cable. Connect HDMI output to TVs.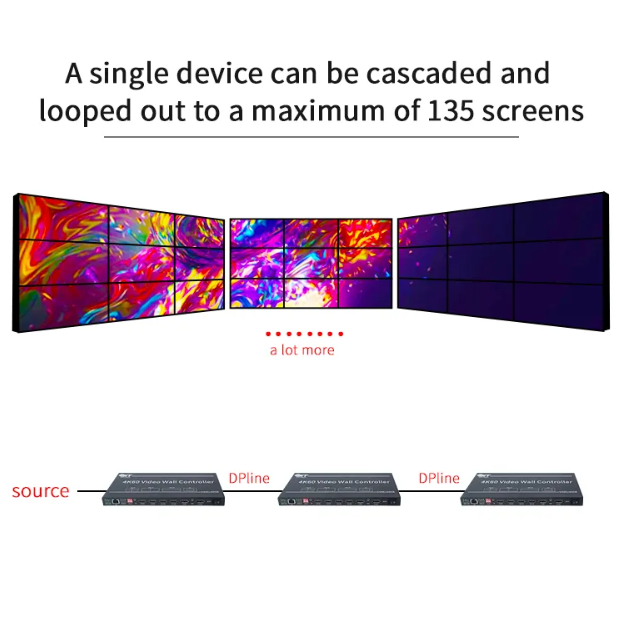 Connect 12V power adaptor.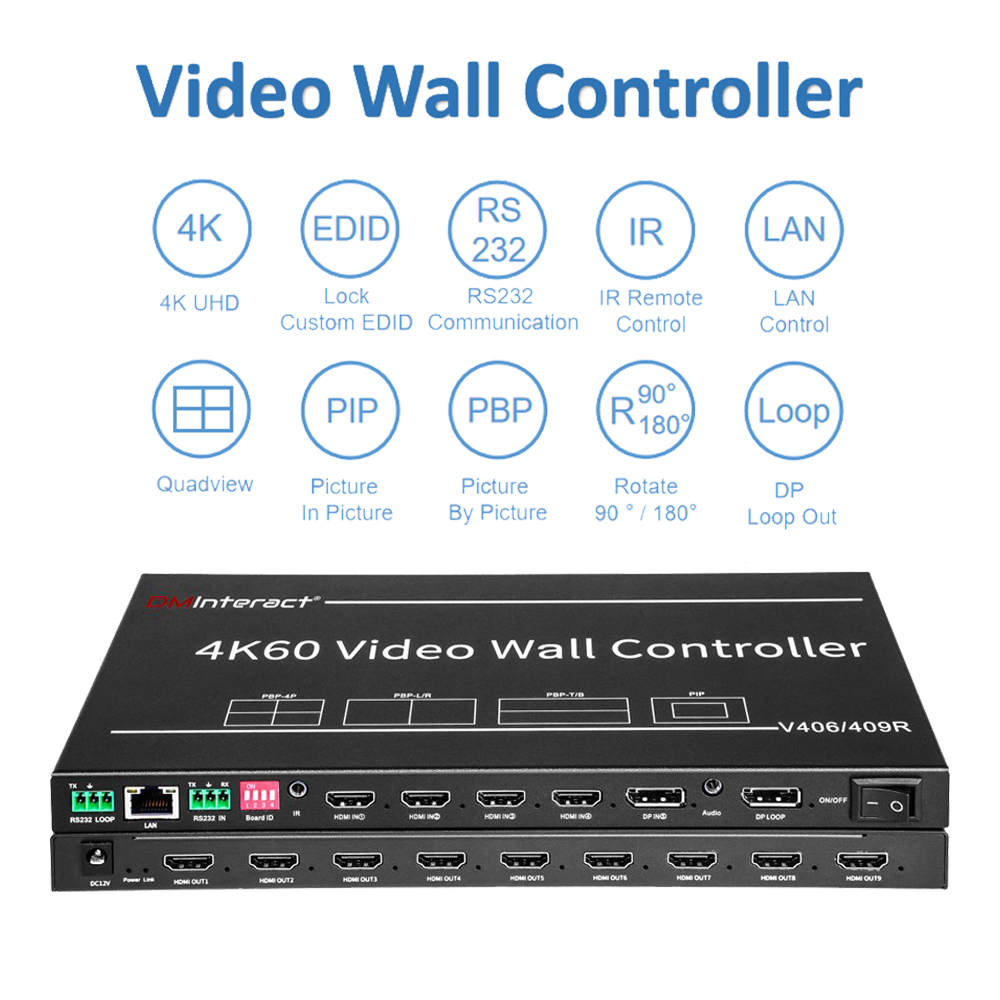 Set up splicing mode by the MODE button on the unit or remote controller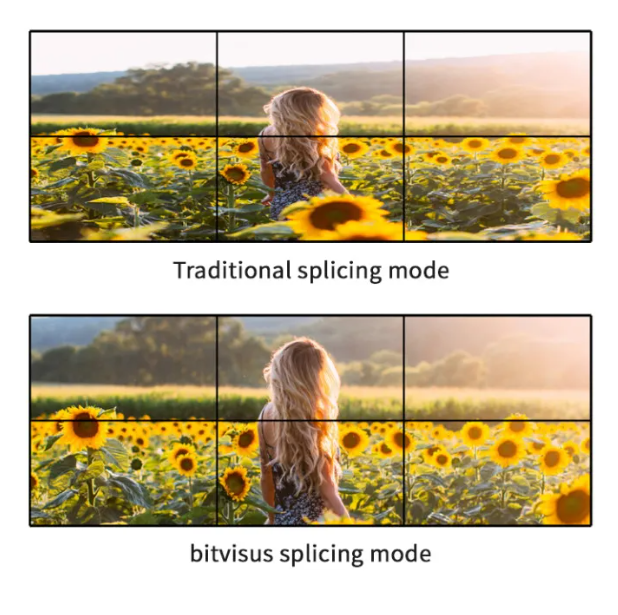 Package includes
1 x 3X3 Video Wall Controller
1 x AC Power Adapter
1 x User Manual
1 x IR Remote Control (Battery NOT included)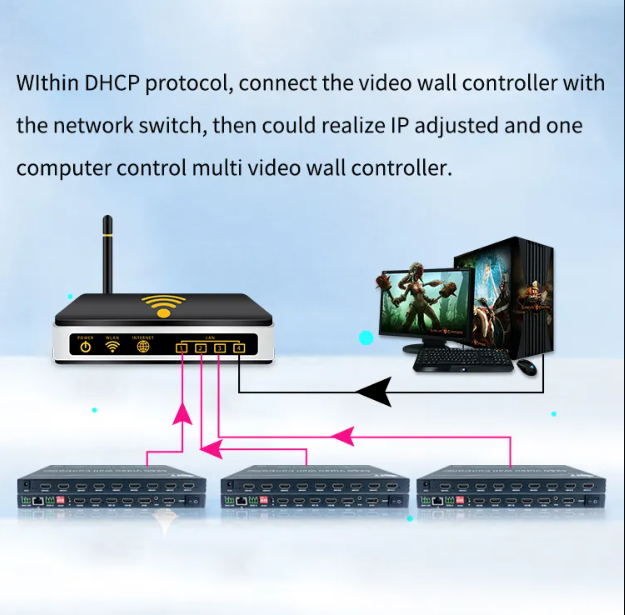 ● Input Max supports 4096x2160@ 60Hz. output max supports 1920x1080 @ 60Hz.
● The input supports full screen rotation of 90 °(only supported in single-picture mode), and the output supports 180 ° rotation of the first line (only supported when the stitching mode is two lines).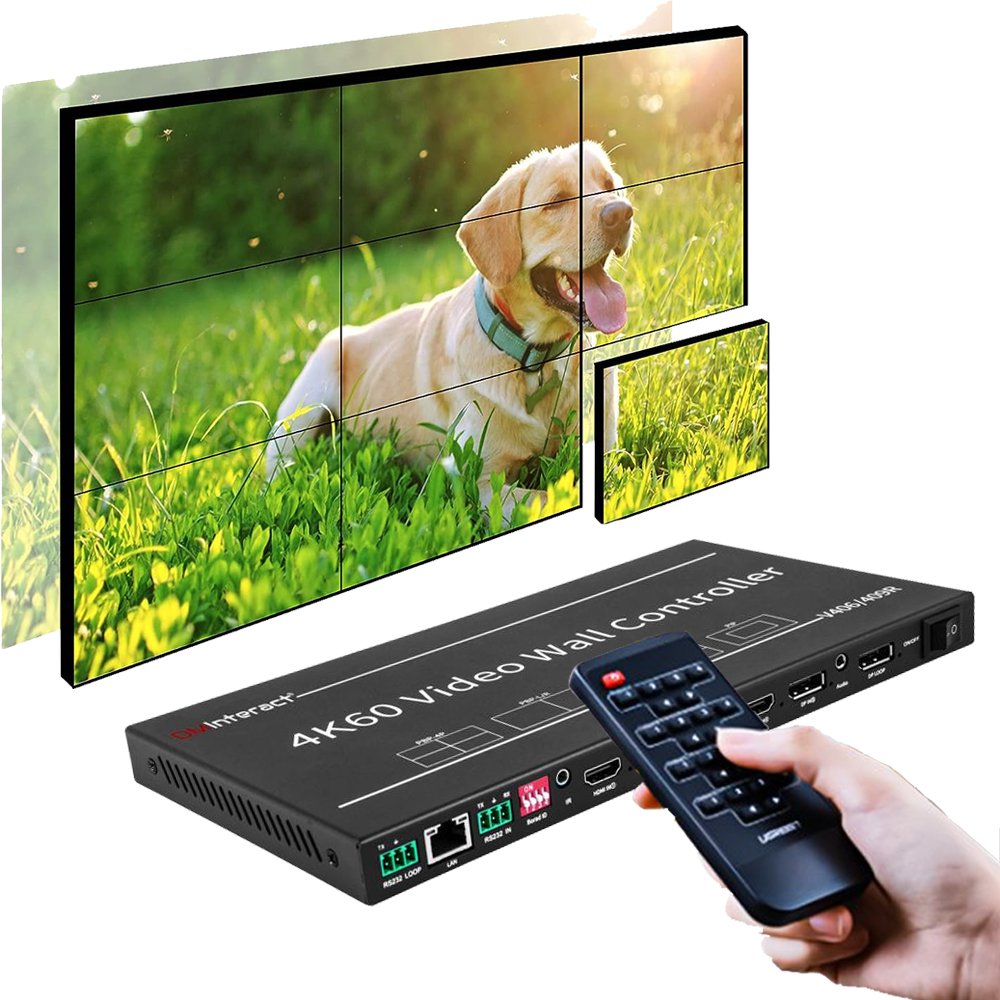 ● no stretching, no deformation, no need to compress the input source, the picture is clear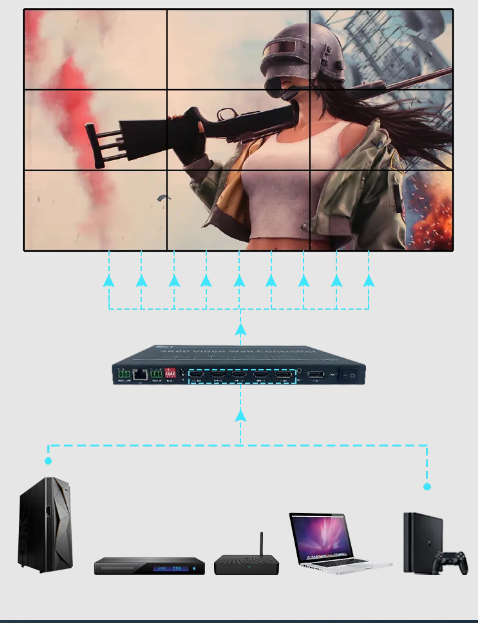 ● Support single display mode (1x1).
● Support infrared remote control, serial RS232 control.
● Low power consumption, energy saving and environmental protection. Conductive heat dissipation is used internally.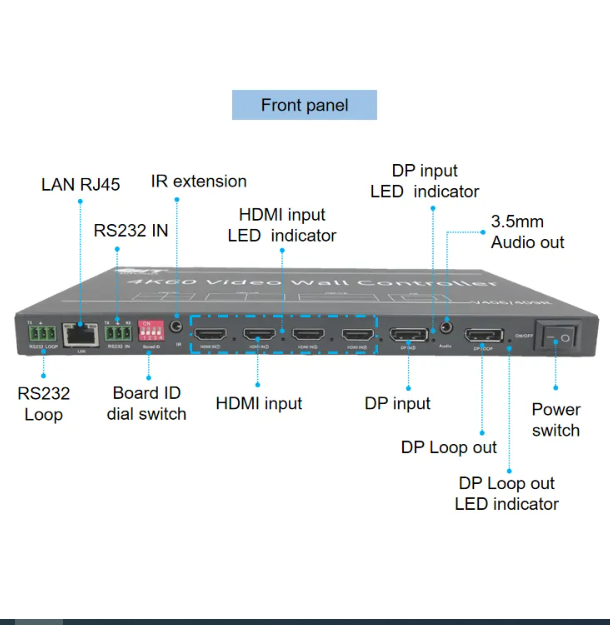 ● without any external heat dissipation measures, and the reliability is extremely high.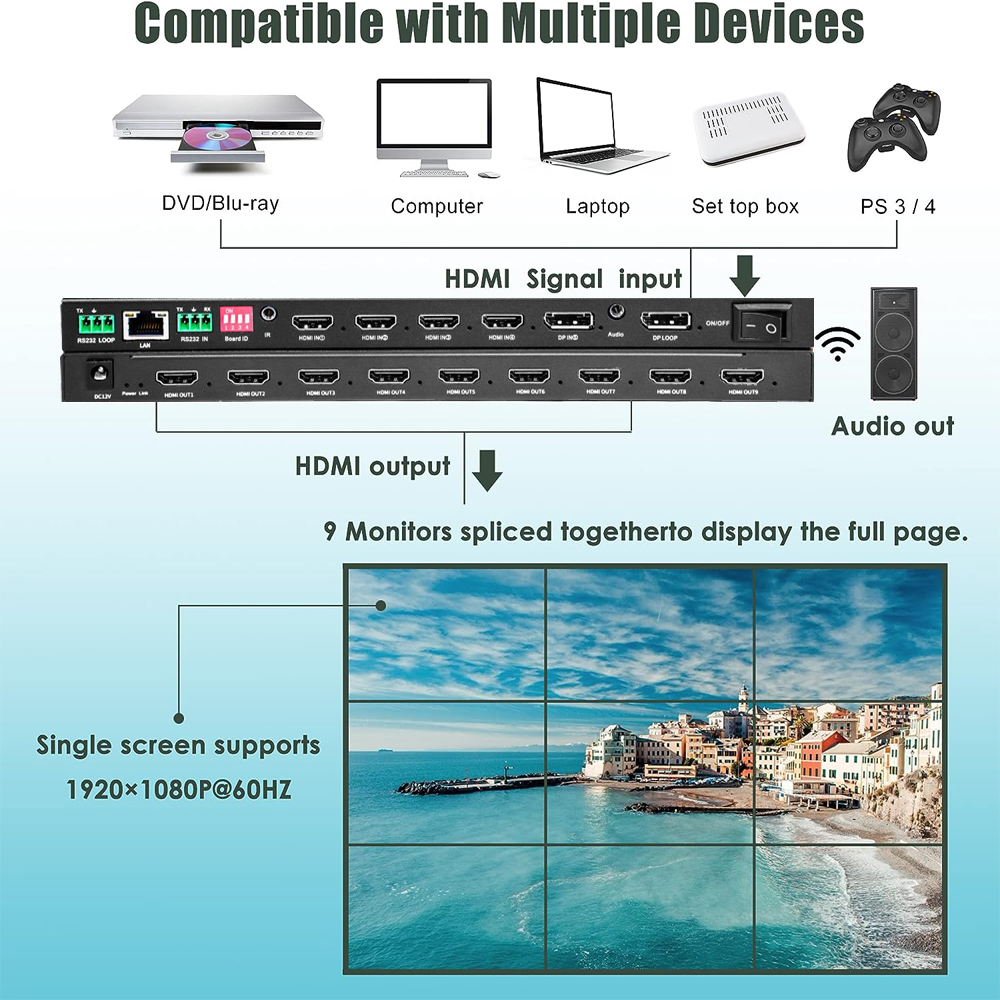 ● Support Computers, Android boxs, game consoles and other devices as input source.
● Using 40nm high-end programmable FPGA chip, full hardware real-time processing architecture, ultra-fast processing speed without delay.
More Information

| | |
| --- | --- |
| Product Name | DMInteract 3x3 4K Video Wall Controller With 9 I/O 1080P 60Hz (9x9) 4x2 2x4 2x3 3x2 2x2 HDMI Matrix Switcher Processor HD Splicer Splitter |
| Weight | 1.00 Kg |
| Frequency | 600MHz |
| Resolutions | 3840 x 2160 @ 30hz |
| Input interface | 3 x HDMI1.4, 1 x HDMI2.0 , 1 x DP1.2 ( ≤ 5 m), support HDCP2.2 |
| Input source | Support computers, Android boxes, game consoles and other devices |
| Color depth | 24 bit, RGB444 , YUV420 |
| Output Interface | 9 xHDMI1.3 (≤ 15 m), 1xDP1.2 loop out |
| Control Method | Infrared remote control, serial port RS232 , PC upper computer |
| Screen Split | Left and right, top and bottom, four splits, picture in picture, input source can be distributed on the wall arbitrarily, and up to 4 signals can be sent to the wall at the same time |
| Stitching Mode | Splicing mode within 9 screens |
| Manufacturer | DMInteract |
| Color | Black |
| Country of Origin | China |
Shipping Worldwide

Yes, that's right, we do!
Compare Products
You have no items to compare.
My Wish List
Last Added Items
You have no items in your wish list.