Optoma HD83 Exceptional Full 1080p Next Generation 3D Projector
Actual Stock Can Be Confirmed After Placing the Order.
Exceptional Full HD 1080P image quality made ultra-smooth with PureMotion4
Excellent placement flexibility - PureShift & wide zoom range
Outstanding 3D Movies, Games, and Sports with HDMI 1.4a 3D support
Total control - advanced Colour Management System CMS
24P
Most movies are shot at 24 frames per second. With the advent of true 24p content in stunning 1080p High Definition, you can now enjoy films exactly as the director intended.
But what about your existing film library? – Using advanced frame conversion techniques, the HD83 can re-capture the original 24p frames from all your favourite PAL/NTSC DVD titles, completely removing unnecessary "pull-down judder" to give them a completely new lease of life.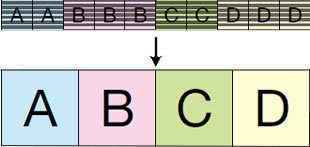 However, during some action-packed scenes, or fast panning motion, the best results can only be achieved, with a little help…
PureMotion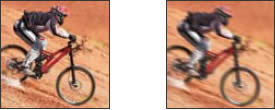 Have you ever wanted things just to go smoothly?
The HD83 Incorporates the next generation of our frame-interpolation processing - PureMotion4.
In its lowest setting, PureMotion4 retains the "dream-like" quality of film while maximising the detail of every frame – whereas the highest setting virtually eliminates motion Blur; perfect for fast-paced sports, where absolute fluidity is essential. Whether you are watching in 2D or 3D, Puremotion4 gives you silky smooth performance.
PureD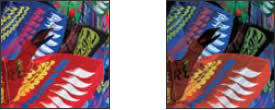 PureD uses sophisticated motion adaptive edge enhancement algorithms to ensure that all the information contained in an image is faithfully reproduced on the screen giving a stunning crystal clear, pin sharp picture.
PureColour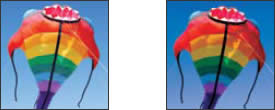 PureColor provides vivid, perfectly balanced colour with impeccable colour uniformity for vibrant natural looking images. Deep Color makes it possible for the HD83 to reproduce billions of colours ensuring smooth tonal transitions and subtle graduations between hues.
Flexible Placement
The combination of PureShift and a wide 1.5 zoom range enables a wider range of projector placement possibilities. This remarkable combination makes it easier to position the projector in your viewing room and allows a wider range of screen size options.
The shaded pyramids show the positions in which the projector can be placed to fill the screen (90").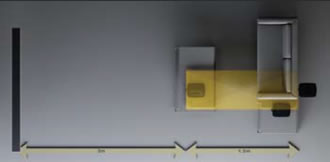 Diagrams are for illustration only. For detailed information please refer to the User Manual
Dynamic Black
Dynamic black adjust the available light output automatically, based on the brightness information of each frame. Bright scenes are crisp and clear, while dark scenes remain detailed with deep blacks.
Ultimate Colour control - CMS+
To get the most out of your HD83, a full colour management system, gives you the flexibility to choose between 5 preset colour gamuts; HDTV (Rec 709), ITU 601, DLP Cinema, SMPTE-C & Native; or alternatively, fine tune intensity and x/y co-ordinates of primary and secondary colours for ultimate calibration precision.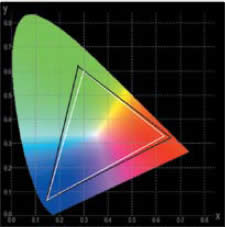 Optimised Efficiency

Advanced lamp-pulsing technologies enable every frame to be analysed and fine-tuned directly from the lamp – this unprecedented control makes it possible to achieve vibrant, perfectly saturated colours across the whole light spectrum while simultaneously ensuring that only the minimum level of power is required.
DLP Technology and 3D - the perfect partnership.
Unlike competing technologies, DLP® from Texas instrument uses millions of tiny mirrors to maximise the available light output, while the inherent speed & high ANSI contrast work in perfect harmony; eliminating crosstalk, to create the most vivid & compelling 3D experience available anywhere.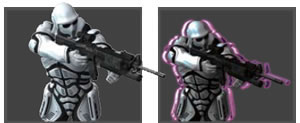 Due to the inherent drop in image brightness using any active 3D glasses, maximising light output is a top priority for 3D displays. This is why we have developed "PureD" – an automated system of advanced image processing and dynamic lamp modes that enhance your viewing experience; providing a 3D brilliance akin to existing 2D projectors without you lifting a finger – Just sit back and enjoy the show!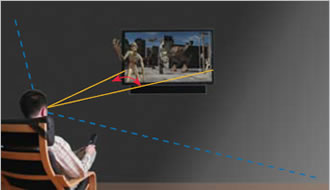 150" ThemeScene Projector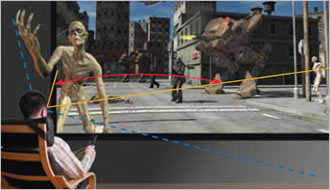 It is a widely accepted fact that the bigger the image, the greater the 3D effect - for the best results it is essential to fill your field of vision, without being too close to the screen. Even a huge 50" TV can only create a window on the 3D world, whereas the immersion & excitement created by a massive 150" projection screen makes you feel like you are part of the action!
The only thing left is the glasses…
Crystal Clear 3D Image

Easy Set-up

Rechargeable

Cross-talk issues

Difficult install

Interferes with remotes
For that seamless 3D experience, we introduce a world-first in home cinema projection – Wifi glasses. Developed in parallel with the HD83, the 3D-RF glasses are optimised to provide higher contrast & brighter images than ever before, while eliminating tedious issues with emitter placement, limited range and potential interference commonly experienced using Infra-red. Also fully rechargeable; our 3D-RF glasses give you the peace of mind that comes with knowing both installing and using them will be hassle free.
Fully Automated Constant Height Projection
Ceiling mount assembly
What is Constant Height Projection?
Many movies are presented in 2.35:1 aspect ratio. When these are viewed on a 16:9 projector with a 16:9 screen black bars are visible at the top and bottom of the image as below. A 16:9 source – like TV fills all of a 16:9 screen with no black bars. This is called Constant Width projection as with both formats the width of the image stays the same.

Constant Height projection uses a 2.35:1 aspect ratio screen. A 2.35:1 movie is displayed with no black bars top and bottom. 16:9 TV is displayed with black bars at the sides.

Constant Height projection is optimised for watching movies. When using the A480SYS Anamorphic Kit from Panamorph the full potential of the projector is used when displaying 2.35:1 movies. This enables a brighter, higher resolution image.
Image Sizes
For the same throw distance the Anamorphic Lens Kit increases the horizontal size of a 2.35:1 image by 33% relative to the same 2.35:1 image being displayed on a 16:9 screen. The vertical height stays the same
.

The A480SYS Anamorphic Lens Kit from Panamorph comprises:
Anamorphic Lens (UH480)
Five element, 100% glass, fully multicoated optical design corrected for chromatic aberration and astigmatism

Optics designed to exceed the resolution requirements for 1080p projection
Motorised Lens Mount (ATH1)
Integrates with the ThemeScene Auto235 feature to automatically detect 2.35:1 presentations and configure the projector and anamorphic lens accordingly

High Precision maintenance free mechanism
Mounting Plate (AK8PRO-S)
Allows the lens and the motorised lens mount to be mounted perfectly in relation to the projector

Enables the projector and the Anamorphic Projection Kit to be mounted as one
More Information

| | |
| --- | --- |
| Weight | 8.40 |
| Projection System | DLP |
| Aspect Ratio | 16:9 |
| Contrast Ratio | 50000:1 |
| Native Resolution | FHD (1920x1080) |
| Projection Size | 0.76 - 7.67m (16:9 Diagonal) |
| Throw Ratio | 1.50-2.28 (Projection Distance/Image Width) |
| Lumens | 1001-2000 |
| Lumens | 1600 ANSI Lumens |
| Lamp Type | 280W |
| Lamp Life | 4000 hours (ECO mode) |
| Dimensions (WxDxH) | 490 x 372 x 194 mm (180mm excl. feet) |
| Power Consumption | 375W Max, <1W standby |
| Manufacturer | Optoma |
| Color | Black |
| Country of Origin | China |
Compare Products
You have no items to compare.