DMInteract P2 147" 3200x1920m Full Color Indoor Dot LED Display
Actual Stock Can Be Confirmed After Placing the Order.
All Delivery times are estimated based on the official restrictions.
SKU
DMInteract3.2x1.92m-Indoor
Pay 4 interest-free payments of

AED 421.00

.
Learn more
DMInteract P2.5 203" 4480x2400mm Full Color Outdoor Waterproof Dot LED Display
PRODUCT OVERVIEW
LED Displays
As the new favorites for advertising meadia, widely usedin financial, taxation, industry andcommerce, post and telecommunications, sports, advertising, industrial enterprises, transportation, education system, station, wharf, airport, shopping malls, hospitals, hotels, Banks, securities market, construction market, auction houses and other public places, industrial enterprise management.Have media display, information release, traffic induction, creative display and other uses.
Die-Casting Aluminum Cabinet
Waterproof iron cabinet
Outdoor rear service waterproof iron cabinet
Cabinet size: Customized according to the size of led module. Such as 640*640mm, 960*960mm.
Material: 1.5mm / 1.8mm metal sheet
Thickness: 120mm
Functions
The module is equipped with copper bracket, power cable, magnet or screw.
Common LED lamps, also can customized Kinglight/Nationstar lamp.
1920Hz refresh rate, also can make 3840Hz.
Frontal screw service module, OR rear service, which would be cheaper.
Fast Lock Design
Fast lock System with ergonomic design, 0.5s instant installation of the top and bottom connect.
Curved Lock Design
DMInteract LED cabinet with curved locks, both inner and outer support 15 degree bends.
Functional Modularity
Direct connections between modules and internal components free of flat ribbon cables, ensure high stability and fast maintenance.
Front Serviceable

DMInteract magnetic modular LED modules can be easily taken off by a vacuum tool front side.
Corner Protection
DMInteract LED cabinet design with foldable corner protection equipment. When disassembling the LED screen, just need to flip over the corner equipment, it will protect the LED lamp not to be damaged.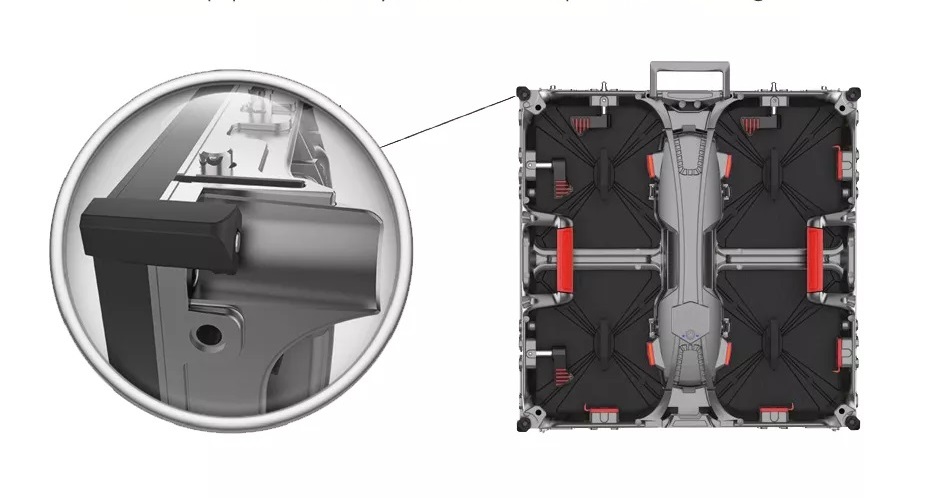 Features:
SMD 3-in-1 LED guarantee wide viewing angle and great color uniformity
Specially designed handle and light aluminum cabinet insure convenient installation
Professional lock design makes seamless connection available
Idea for use at indoor locations with short & middle viewing distance
Standard 2K ,4k,8k ,3D high-definition picture /video, global ultra-thin design , color saturation more than 97%, fine quality(visual effect), low-brightness but high-gray effect, 8-level brightness freely adjustable.
High refresh frequency (3840HZ) can meet the requirement of the shooting on the stage, presents the perfect effect.
User-level installation and maintenance, no need for secondary renovation, no need for rear maintenance access, no steel structure, easyon-site construction, support for wall mounting or mobile vertical installation.
One power cable, one-button switch, remote control, intelligent terminal control, easy and convenient.
More Information

| | |
| --- | --- |
| Product Name | DMInteract P2 147" 3200x1920m Full Color Indoor Dot LED Display |
| Weight | 20.00 Kg |
| Screen Size | 3200x1920m |
| Module Size | 320mm×160mm |
| Cabinet Size | 640x480mm |
| Cabinet Resolution | 320x240dots |
| Cabinet Material | Die-casting aluminum cabient |
| Input Voltage | AC220V-240V/50-60HZ |
| Viewing Angle | 140-160 degrees. |
| Pixel Density | 250000 pixels/ SQM |
| Operating Temperature | -30ºC~65ºC |
| Operating Humidity | 10%~90% |
| Max. Power Consumption | 650 W/㎡ |
| Manufacturer | DMInteract |
| Color | Black |
| Country of Origin | China |
Shipping Worldwide

Yes, that's right, we do!
Compare Products
You have no items to compare.
My Wish List
Last Added Items
You have no items in your wish list.